When your fundraiser relies on attracting passers-by to purchase a product, a little preparation goes a long way. With careful planning, you can attract countless supporters to your fundraising table, increasing sales and achieving your goals in no time.
If you've decided to support your non-profit's cause with a meat stick fundraiser, the good news is you're already on the road to success! Results have proven time and again that people love meat sticks from Country Meats, so you've invested in a product that will practically sell itself. That being said, making smart choices in how, when, and where to sell these delectable meat sticks can help catapult your fundraising efforts to success, fast. After all, if people can't find your fundraising booth, or you aren't selling these portable snacks at a convenient time, even the most well-intentioned supporters will struggle to help contribute to your cause.
Skip the rookie mistakes and check out these tried and true tips for setting up a successful meat stick fundraising booth.
Where to Set Up Fundraising Booths
As any marketer will tell you, location is key. This couldn't be more true than for a fundraising booth, which depends on appealing to potential supporters at just the right moment to entice them to make a purchase. When you're selling meat sticks at your booth, you have the advantages of offering a product that can be enjoyed just about any time and anywhere, but targeting crowded areas full of hungry people will make your fundraiser that much more effective. Some of our tried-and-true fundraising booth locations include: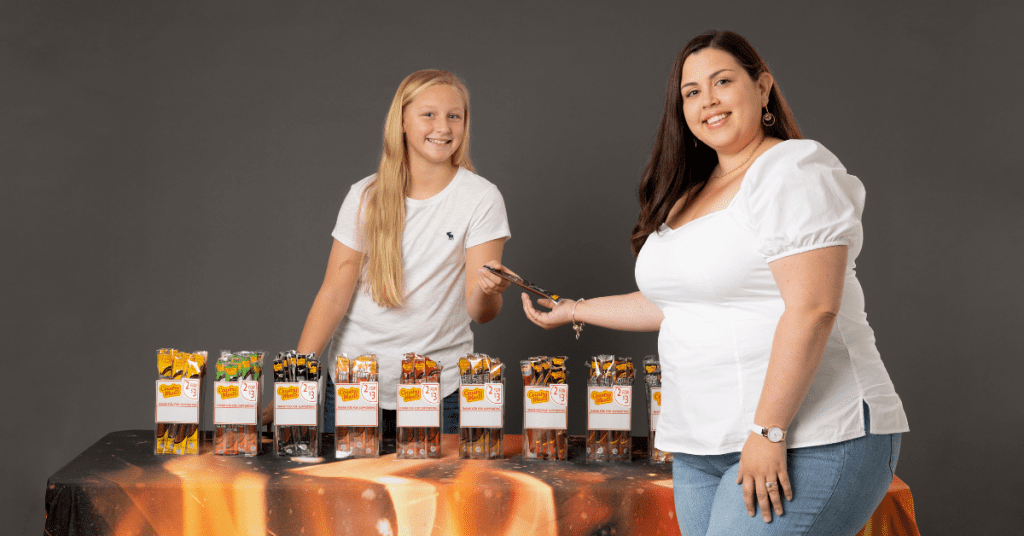 Sporting Events. Whether it's the local high school's Friday night football game or a Saturday morning pee-wee soccer tournament, meat sticks and sports are a natural match. Between hungry athletes, snacking siblings, and supportive parents, by setting up your fundraising booth at a sporting event, you'll appeal to peoples' appetites and sell out of meat sticks in no time.
Cafeterias. What better place to find a large group of hungry people than the cafeteria? Locate your fundraising booth near the entrance to entice supporters to snag a meat stick (or two) on their way to lunch, and your only struggle will be trying to keep enough meat sticks in stock! Another way to sell within schools is by setting a remote display box in each classroom, making it easy for hungry students to grab a meat stick (thereby supporting your fundraiser) on their way to and from class.
Plays, Talent Shows, and Dance Recitals. Performances pair perfectly with your meat stick fundraiser because they entail a large number of people gathering together for a relatively long period of time. Whether they're genuinely hungry or looking for a snack to help pass the time between acts, attendees will be flocking to your fundraising booth to stock up on snacks, supporting your cause in the process.
Outside Grocery Stores, Banks, and other Businesses. Any high-traffic business is a good candidate for setting up your meat stick fundraising booth—just be sure to get permission from the business owner first!
Fairs, Dances, and Other Gatherings. Any social gathering is an opportunity to appeal to the community and attract crowds to visit your fundraising booth. Whether it's a county fair, a school dance, or any other social event, don't miss this opportunity to increase sales and work toward your fundraising goals.
Fundraising Booth Ideas
If you're hoping to get supporters to stop by, you'll need an eye-catching fundraising booth. From portability and ease of setup to attractiveness and approachability, here's how to plan and design your fundraising booth:
Use A Table. Start with a standard 6-foot folding table so it's easy to set up, break down, and transport to your next fundraising location.
Add A Tablecloth. Add a quality tablecloth for instant class—nobody wants to look at a boring, beat-up folding table. A white linen tablecloth is an excellent option, especially for brightly-colored products like Country Meats display boxes and signage.
Include Ample Signage. Hang large, easy-to-read promotional posters across the front of the table and on the wall behind your booth, with both your fundraising group's name and goal and information about the products you're selling.
Display Products and Pricing. Your fundraising product should be front and center, with pricing (as well as any promotional pricing and bulk discounts) clearly marked. If you have a large volume of product, display a few at a time to avoid clutter, and restock the displays as items sell.
Preparing Your Fundraising Booth
Preparation is the key to success. Once you've determined when and where you'll have your fundraising booth, take a moment to ensure you have everything you'll need to succeed.
Plan For the Weather. If your booth will be outdoors, consider investing in a pop-up tent that can provide shade or shelter from rain.
Gather Decorating Supplies. Use a bag or large storage bin to keep your supplies together, including tablecloth(s), signage, tape or sticky tack, tablecloth clips, display cases, trash bags, etc.
Prepare to Accept Payments. The goal of your fundraising booth is to raise money, so you'll need a plan in place to keep track of everything you raise. Bring a cash register and/or locking safe box, plenty of change, and a calculator. If you'll be accepting digital payment, don't forget your mobile card reader or information directing supporters to your organization's digital money transfer account.
How To Get The Most Out Of Your Fundraising Table Setup
Even with the tips outlined above, some fundraising booths will prove more successful than others. Follow these tips to help improve your odds of success and get the most out of your fundraising table:
Pick the Right Product. This one comes down to knowing your audience; for instance, it would be unwise to try to sell wrapping paper to high school students, or to sell cookies outside a health foods store. Instead, choose a fundraising product that appeals to your audience and you'll have much higher chances of success. That's why meat sticks from Country Meats are a beloved fundraising option; these healthy, portable meat snacks have nearly universal appeal making them suitable for selling in just about any location.
Make Your Booth Display Attractive and Inviting. Avoid clashing colors, tacky signage, or anything that's difficult to read, and keep all trash and clutter out of sight. Instead, stick with a simple color palette, professionally-printed signs, and attractive product display boxes to maximize your fundraising table's appeal. When you choose a Country Meats fundraiser, you can easily request free signs and display boxes with your order, making it easy to create an impressive, professional display.
Prepare Your Volunteers. If the members of your nonprofit are new to fundraising, they may not know how to effectively work a booth. No signage can take the place of friendly faces, eye contact, and welcoming energy. Make sure all volunteers are well-versed in your organization's goals, familiar with your product options and pricing, and comfortable engaging potential donors in conversation.
Plan For Ample Volunteer Support. Make sure you have enough volunteers so that they can work in small groups and take short shifts to avoid volunteer burnout. Fresh volunteers will be better prepared to remain inviting and energetic, drawing supporters to your fundraising table, engaging them with your cause, and driving sales.