Many nonprofit organizations rely on fundraisers to accomplish their mission or achieve their goals. However, asking for donations can be uncomfortable and may not come naturally for many people. Starting a successful fundraiser requires a defined strategy, from setting goals to selecting the best type of fundraiser for your group, marketing it to potential donors, and more. Check out these seven steps to starting a fundraiser that will help you understand exactly how to prepare, plan for, and start a fundraiser that will resonate with supporters and help your organization achieve its goals. 
Define Your Cause
Motivation is the backbone of any successful fundraiser. Is your sports team hoping to raise money for new uniforms? Is your class raising money to take an important field trip? Or is your scout group raising money to attend the annual jamboree? Once you and your group members understand your cause, you can rally together and put in the necessary work to achieve your collective goals.
Create a Mission Statement
People are bombarded with fundraising opportunities every day, from commercials on tv to ads on social media, groups going door-to-door, and more. A mission statement is simply how you'll explain your cause to potential supporters to help convince them that your cause is worth supporting. To be effective, it should be clear, specific, and convincing. For instance, "We're raising money for our sports team" is not a very good mission statement; instead, "We're raising money to help pay for our team's trip to the State Championship game in October" is much more powerful because it is clear, specific, and helps supporters understand exactly how the funds will be used.
Set Your Fundraising Goal
Consider how much money your cause will cost as well as how much time you have to raise the funds, then set your goal accordingly. Remember to be realistic; while it would be ideal to raise enough money to cover the entire cost of your trip or event, consider how much money you actually need in order to make it happen. This will also help you with the next step, which is deciding how to raise funds.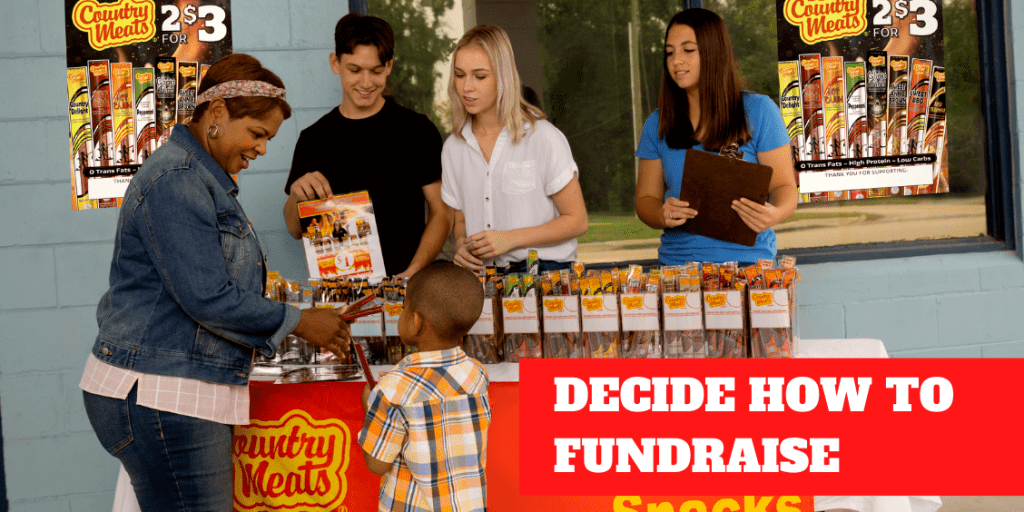 Decide How to Fundraise
Once you've determined your goal, it's time to formulate a plan to make it happen. Will you simply ask sponsors to contribute to your cause, or will you sell a product or perform a service to earn the money you need? Will you execute your fundraiser via in-person activities, or do you prefer an online fundraiser? While there are countless types of fundraising products and platforms, they won't all be a good fit for your goals. Research the best fundraising ideas for your specific group before making your decision; remember, it may also be a good idea to choose more than one type of fundraiser to help achieve your goals more quickly.
Based on our decades of fundraising experience, we've found that the most successful fundraisers request small contributions while providing donors something in return. However, be mindful of your profit margins; the lower your profit margin, the more items you'll have to sell and the longer it will take to reach your goal. A Country Meats meat stick fundraiser is one of the most successful fundraisers fundraising vehicles because you get to sell a product that people want and enjoy, for a price that just about anyone can afford—only $1.50 per meat stick or $3.00 for two—and your group earns a 50% profit margin on each meat stick sold! And, most importantly, you can cater your fundraising style to your needs and abilities; sell meat sticks in-person in the cafeteria, at sporting events, or at other gatherings; set display boxes in local businesses, in office building break rooms, or even in individual classrooms; take your fundraiser online with a custom link that you can share and promote to friends, family, and followers, allowing them to order meat sticks and support your cause from anywhere, near or far; or, combine all three strategies to maximize your results and reach your goal—fast!
Promote Your Fundraiser
Create a plan to spread awareness, both before and during your fundraiser. Use cohesive messaging, but tailor your message to the promotional medium. For instance, include a full-length article in the school newsletter or a local newspaper explaining your cause and how people can help support it, post flyers with a brief description of the fundraiser around school or homeown, create social media posts with descriptive language and images that your group members can share on their personal pages, and more. The more you get your message in front of people, the more support you'll receive and the faster you'll achieve your fundraising goal.
Create a Plan and Incentivize Participants
When everyone is responsible for completing a task, nothing gets done. Once you determine how you'll conduct your fundraiser, set a specific plan to make it happen. Assign each group member a set time to cover the fundraising booth or table, decide who will bring display boxes to which local businesses, or determine exactly how you will communicate your in-person or online fundraiser to potential supporters. This is where performance incentives can be extremely beneficial; by assigning small rewards for the group member who sells the most meat sticks, places the most display boxes, or gets the most social media promotional post likes, you can help encourage each member to try their best, producing better results.
Evaluate Your Success
Your fundraiser is complete—did you meet your goals? Meet with your group to discuss what was effective, what was not effective, and what you might consider doing differently next time. While your next fundraiser may not be for a few weeks, or even a few months, the best time to evaluate your success and make a plan for the future is now, while everything is still fresh in your mind. This way, whenever the next fundraiser rolls around, you'll be ready to hit the ground running and exceed your goals!
Ready to start a fundraiser? Just fill out this form to get started with the world's most successful meat stick fundraising platform and get your nonprofit the funds you need to achieve your goals!