Country Meats CEO Jeremy Geatches took over the helm of the family business from his father, Jerry. The evolution of Country Meats into a smoked meat sticks fundraising business happened naturally from the Geatches' farm in Ocala, Florida, where the family of entrepreneurs looked for ways to help their community. It was a magical and never-boring way of life. In this interview, Jeremy shares funny, heartwarming stories of growing up working with his dad, what it taught him, and why he works hard to carry on the integrity of what his father started.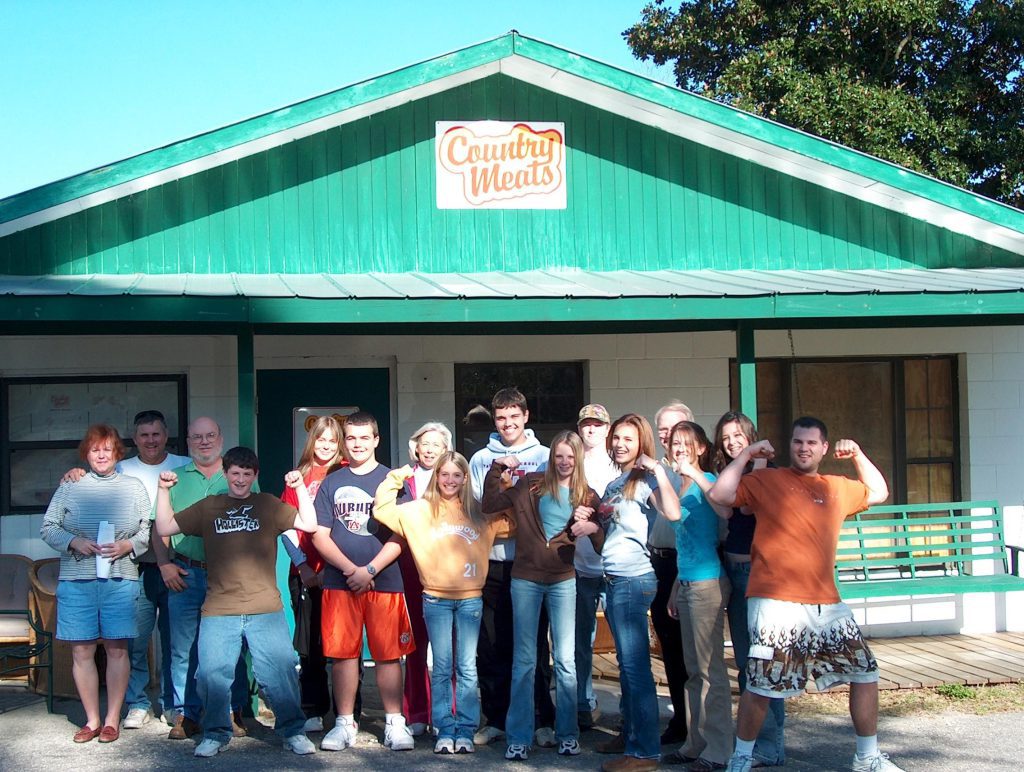 Country Meats has always been a family-owned business, started by your father, Jerry Geatches. Tell us about growing up on a family farm in Ocala. What are some of your fondest (or funniest) memories of your early days?
Jeremy Geatches: Growing up on the family farm was awesome. One birthday I got a dump truckload of dirt. It was amazing. I jumped in it, ran over it, and ran all my toys through it. My pet pig Homey flopped around in it, too. I never wore shoes or a shirt. Every night my bathtub looked like you threw a gallon of dirt into it after I was done washing up.
My dad's truck was a regular cab GMC, but he built the bed of it out of wood after some animals were too heavy for the factory bed and busted the side walls. I loved that truck. I could stand on the long bench seat and press my head into the roof as we drove from farm to farm processing animals.
One time we were at a farm. I'll never forget this. Dad was butchering a cow in the middle of their cow field. Other cows were standing around. They are very docile but two of them at the same time got curious about the open doors of the truck. Dad looked over at me screaming at the top of my lungs standing in the middle of the bench seat with the cows' heads on either side of me, each halfway in the truck. To me, they might as well have been Tyrannosaurus rex with their heavy breathing, nose licking, and giant heads. Scared the mess out of me. When I was 12-14 years old, I learned to drive in that truck. When Dad was done going to the farms he would let me drive in the field, weaving in and out of the oak trees, cow patties, and hay bales.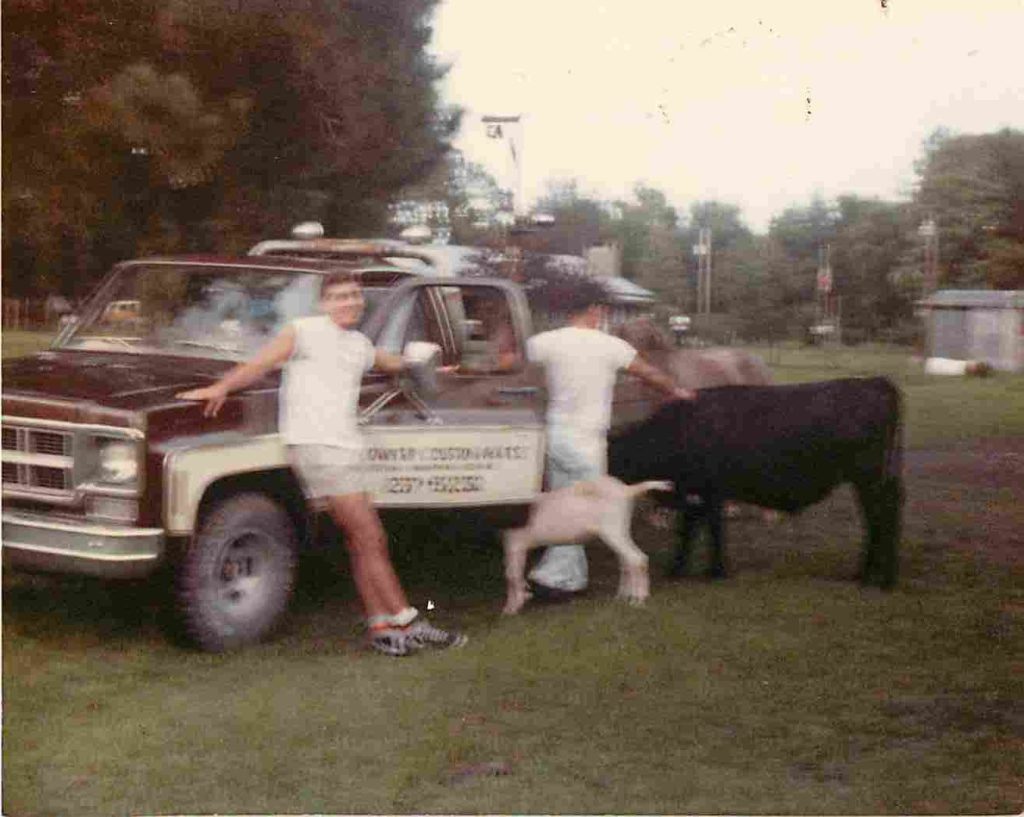 You could see daylight through a crack in the front door because our goat decided one day she wanted in and rammed it.
My first day of kindergarten was the first day our ducks' eggs all hatched. There were baby ducks everywhere and swimming in the pool.
My dog Pupper walked me to the bus stop every day and was there to greet me when I got home, too. She didn't have a watch but she knew when the bus was coming.
When mom bought our first real wrapping machine it came in a giant wooden crate. Dad put the crate in the field and it became my fort. Until the spiders took over. [laughs]
What was it like growing up with Jerry as your dad, and seeing him start his own business?
Jeremy: The first building that was "Country Meats" was an old two-car garage on the farm. Dad picked up used equipment and materials from closed businesses like Winn-Dixie. He was very resourceful and creative. We had a small 3'x5' room for seasoning, and I would sneak and eat gobs of brown sugar. It was great.
Dad became more than just a farmer. He might as well have been a vet, scientist, engineer, businessman, and creator. And, he was so customer friendly. When neighboring farms had an animal issue, he could usually diagnose it and provide help. We shared equipment like tractors, spreaders, and plow discs.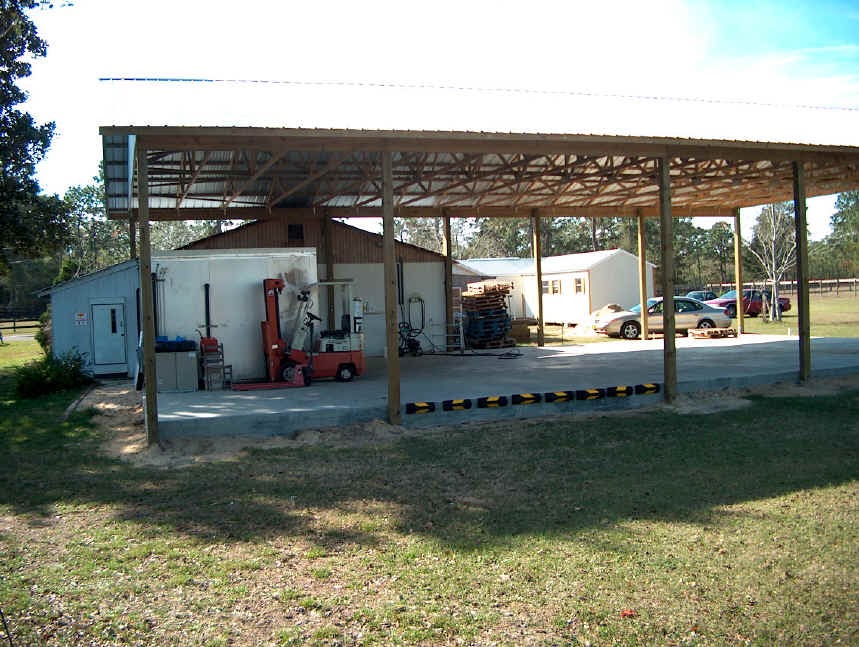 If an opening in the building needed a door and there was nowhere to buy it, he built it and then used a counterweight to make sure it auto-closed behind you.
When he built our first smoker oven, it was a clock motor that turned a home stove burner while a gravity feed funnel brought down sawdust to create the hickory smoke. A squirrel cage fan sucked that smoke into the welded steel room. A hose on the floor provided the humidity so the sausage could ferment and cook in the perfect environment.
Dad loved to fish, and living in Florida there are plenty of places to fish. I caught my first fish in a jon boat on the silver river. It was a shiner. Then we started going to the Gulf of Mexico and night fished for sharks. We were stranded at sea so many times. [laughs] Somehow there was always someone who could tow us back to the dock.
When you start your own butcher shop in Florida, you get mostly requests for cow and pig processing, but sometimes we would get alligator requests. There are a lot of them here, and they can be a nuisance. The locals in the 80s would ask Dad if he could process them, and, when times were hard, Dad would agree. As a kid, walking back through the facility assuming to see cows but instead seeing alligators … this was a shock. I ran screaming, and Dad laughed. However, he was not laughing when he looked back and realized one of the 8' alligators was not dead. It was very alive and hissing and snapping its jaw! The local that brought it in only trapped it!
Every day was an adventure. I remember one night coming into the kitchen and there it was. About 14 inches long. It was the first-ever smoked snack stick Dad created and cooked with the help of the University of Florida, USDA, and Food Science team. I snatched it up and ate the whole thing. It was so delicious. Dad was beside himself. That was the only one and it was supposed to be shared with everyone. He decided that if I ate the whole thing it must have been good. Today we call that flavor Country Delight.
How do you think helping him and working for the family business influenced you?
Jeremy: I think a lot of dad's ingenuity rubbed off on me. I tend to be able to see things conceptually and then work through the problems in my head and come up with something that works well. After that, you iterate and constantly improve or update with current needs.
I've been answering the phone "Country Meats!" my whole life since our home phone was the business phone. Customers showed up usually after their work was done and school was over for me. So, dinner time was often broken up by carrying customer orders out to their cars from the freezers. Happy customers, good service, and great product quality meant good things for the business. The same is very true today.
Dad was originally a cook in the air force and then a beautician at his mom's beauty shop in Detroit, MI, and then in Marco Island, FL, too. Being entrepreneurs has been in our blood for many generations. These salons were high-end and required detailed knowledge of the hair coloring process as well as high-quality customer service. In Marco Island, he cut and styled the First Lady of the United States Jacqueline Kennedy Onassis's hair.
There was a lot of pride in my grandmother and my dad about the work they were doing. It feels good to take pride in your work, produce something great and then see the reactions from your customers. The feedback is infectious.
Dad always seemed to be happy. He was forging his own path. When I saw my choices as a young man entering the workforce, and, after having a ton of odd jobs away from the farm, I chose to learn dad's work and then see where I could take it.
What were your early jobs with Country Meats?
Jeremy: My job was whatever needed to be done. I wrapped meat, cut meat, helped customers, cleaned racks, you name it.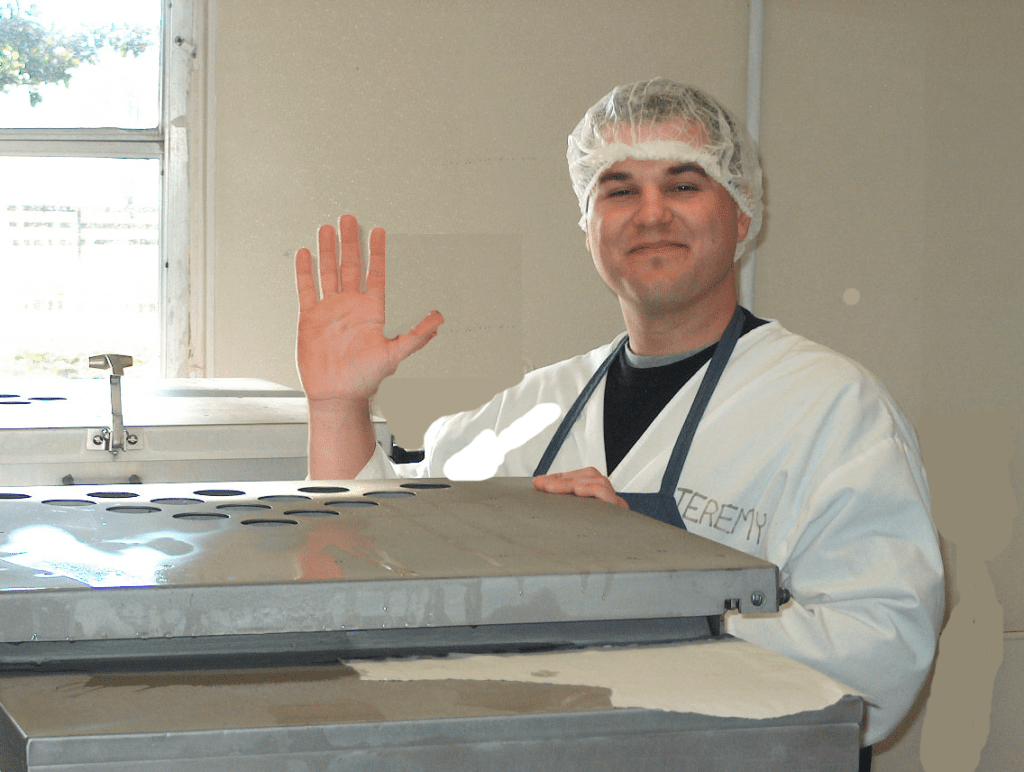 What does it mean to you to carry on your father's legacy? Is this something you hope to pass down to your children?
Jeremy: To me, my dad's legacy isn't just being a sausage manufacturer but providing the means to support our family. Dad proved that he could be successful as long as he could work. If you do things the right way and you have great customer service, then people will want your product. I feel like I am doing that now. When Dad started the business there was no internet. One of my odd jobs away from the family business was designing websites for locals like car clubs, a painter, and more. I had the idea for a business coupon website long before Groupon but I never got around to it. [laughs]
Mom's job was to sell snack sticks over the phone. One day, I told my dad that I could sell more Country Meats to teachers who are fundraising for school clubs and events than they could sell on the phone, and I wanted $1,000 when it happened. So, I set up a website and began to market it over the phone when customers called, and in the flyers we placed in orders. Soon orders started coming in online. Within one year my site was outselling the phones. Mom got to retire, and I got $1,000. I should have taken a percentage of every order. I was never the best negotiator. [laughs]
My wife and I have two beautiful, healthy, smart children. They aren't old enough to work, but they see my work, hear the stories, and help out. If they want to work in the business then there will be a place for them. But whatever they find exciting, we will support them.
At 20 years old, you had your own business plan for a career in graphic design and owning sign companies. It seems like you've always been ambitious with big plans.
Jeremy: Yes, as soon as I did the math on what I was producing for others, I knew that I could do it on my own. My dad said he would support me with a business loan, but I had to have a plan. I wrote one. I explained the sign business mission statement, the costs, possible locations, return on investment, and products and services I would offer. This is before "wraps" on cars became huge. I had a few side jobs from working for the sign company locally that I worked for full time. I wrapped a fire engine with basic vinyl. Not an easy task. The industry has much better materials today.
My grandmother said I should work in the family business and help Dad. After some thought, it made the most sense.
Here's a fun side note: My old boss closed his sign company and came to work with me. He is our in-house IT and oven operator. He loves the diversity of the job, and we often go to lunch at Waffle House and reminisce.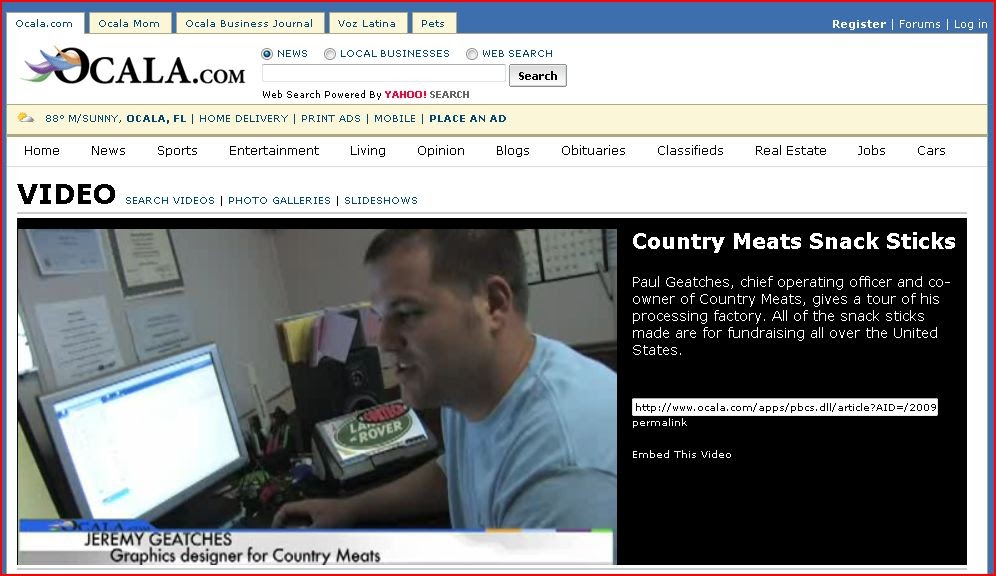 Will you talk a little about how it feels to know the Country Meats fundraisers help other people achieve their dreams and goals? Is this what y'all had in mind for this company all along?
Jeremy: When I would listen to Mom on the phone she often would give a case of product away. I'd ask why she did that. She said that this particular school FFA teacher lost his fences and some items due to the hurricane that came through. So by sending him the free case, he was able to sell it and earn money to start replacing the items. I was really touched by this. Helping people and being on the giving side felt really good.
When I was older and helping customers over the phone and email I would hear their stories of what they needed to raise money for. Really great causes. Cancer research, school projects, 4H, FFA, SKILLS USA, churches, robotics, and so on. Even today when we hire folks for the phones we let them know "Get ready to have goosebumps! The stories you hear will warm your heart."
Helping fundraisers wasn't always a part of the plan. As a butcher, Dad knew how to make sausage. That turned into the ready-to-eat meat stick we make today. The meat sticks were originally for sale at local convenience stores. An FFA teacher at Dunnellon High School in Florida bought one. He could see they were made in Ocala and called us. He asked if he could buy direct and sell for fundraising. We said yes. He said if you attend the FFA conference in Orlando, FL, you can meet 300 other FFA teachers just like me. And as they say, the rest is history.
I am glad we help people. It fits my value system. A value system that was forged in me as a child growing up in the environment of business and helping customers. It feels good to help others.