Hi, we are Country Meats and this is our story as told by Jeremy Geatches, the CEO and son of the founder.
Way back in the late 1970's, my dad Jerry Geatches had a dream. He wanted to be in the meat business. He retrofitted our family's barn into a meat cutting operation with his bare hands. Burning the midnight oil, he forged a business based on service and fairness. At the start, we farm butchered beef and hogs and custom cut and wrapped them for folk's freezers.
As the years ticked by, we built our first smokehouse. We sugar cured hams and bacon by the ton. As we outgrew our smoker we would build another one, always bigger and better than the last.
Dad would load up the truck with a few knives wrapped in a towel, a 22 caliber rifle with a screw as the sight, and a diaper bag for changing me between jobs. Those were some of the coolest adventures of my life. Farm owners would give us eggs, fresh milk and even a duck!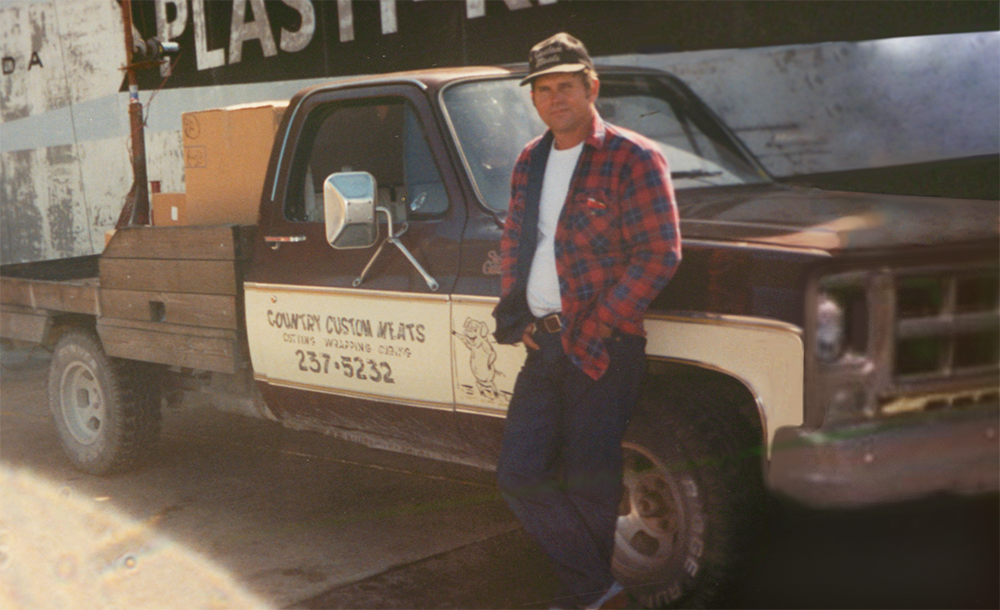 By the end of the 1980's, we were busy all the time. The phone rang around the clock and mom forged lifelong friendships with fundraisers. We hired help and added on to the barn four times. Then the game changer for us was when a local FFA chapter asked if we could make some smoked snack sticks for a fundraiser. We started with three flavors: Country Delight, Ham, and Pepperoni. Our whole family was involved as we put stick-on labels on plastic pouches. Then, we would stuff the finished product into the pouches and vacuum pack them 6 at a time which took about a minute.
It only took about two years for the word to spread in the FFA community that Country Meats was a nice way to raise some money. We started going to as many trade shows as we could afford. We would send out samples in hopes that people would just taste the sticks. As news spread, it became very obvious that we needed to focus on snack sticks and less on butchering. So we bit the bullet and signed the loan for a big wrapping machine. If we were going to do this, we needed to go big. The machine shipped to us from the Black Forest of Germany and cost more than our farm!
Fired up, the wrapper could package one stick per second! The problem was that we didn't sell that many in those early days. For about the next decade, we had to grow into our wrapping machine. We worked hard all the time. We added new flavors and new lifelong customers. We always wanted to keep the whole fundraiser super easy and simple. We felt that educators had enough on their plates, to have to worry about a fundraiser. We have always felt like the teacher's partner. We both had the same goals and still do: to assist in getting the funds that will help pay for the projects and expenses that create lifelong memories for the students.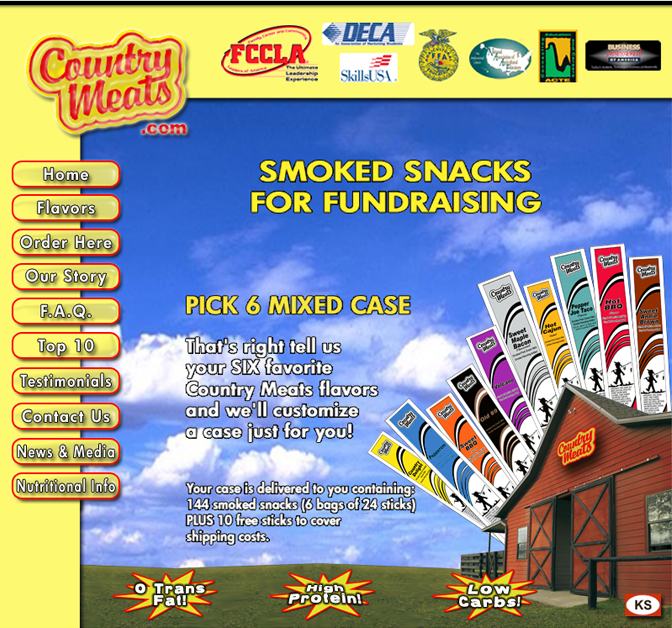 In 2005, I built our first website. The hopes were that the internet would allow us to reach more fundraisers than ever before. I set up a computer for my mom and set the notification so anytime an order came in she could hear it. Within the first year, we had to move the notification to silent. It was ringing off the hook.
Then the whole country went into a recession. We had an important decision to make. Do we stay on the farm and hunker down for the storm or do we stand tall and bravely march into the future? We felt the world would always make room for a better product with great service at fair prices so we built a brand new, state-of-the-art, snack factory about five miles from the farm. We signed a whole bunch of loan papers and decided not to look back. That was 2010. The company doubled in those next three years and turned our dream of an awesome facility into a necessity.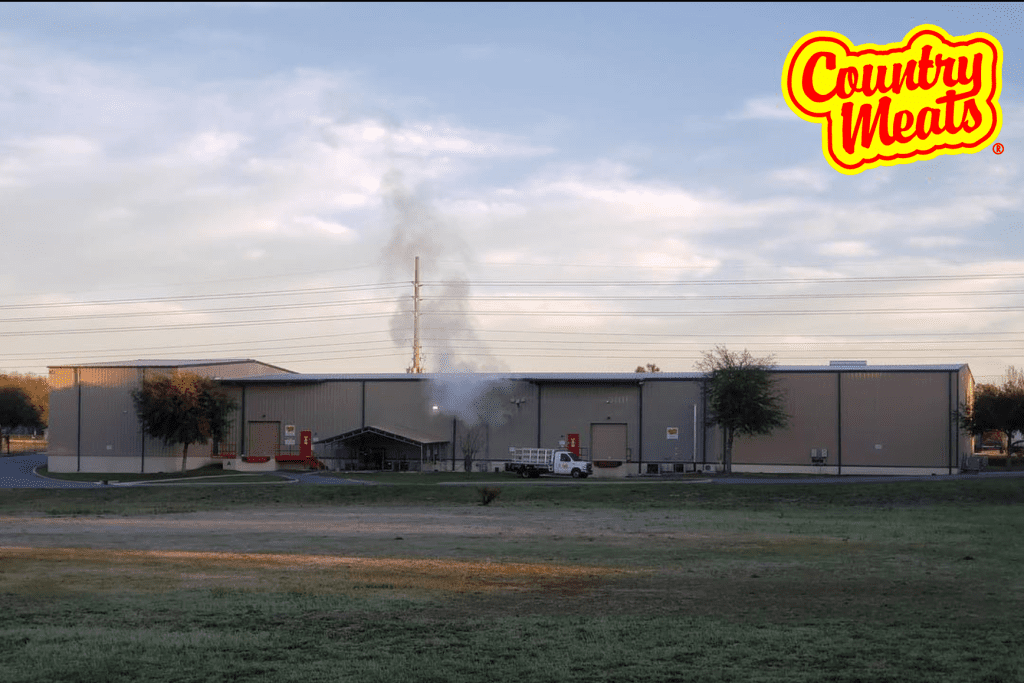 We moved in and added another wrapping machine! Bigger and faster than the one from Germany and made in the USA!
In 2023, we celebrated our 45th year in the meat business. We have shipped over 164 million smoked snacks, all for fundraising. Over the years, we've added brand new flavors to our initial line up of just three, and now our offering consists of 12+ delicious flavor options. We have had our products in thousands of schools and even some of our teachers sold them back when they were students.
Today, my dad and mom are with us in spirit.  We bask in the shade of the mighty oak of a business they built from nothing but a dream and we are honored for the opportunity to see how far we can grow.