Country Meats snack sticks offer a low-sugar, protein-rich fundraising food that supports the mission of athletic programs from youth sports to high schools. Anyone from booster clubs to team captains and coaches should look to Country Meats for their next profitable athletic fundraiser.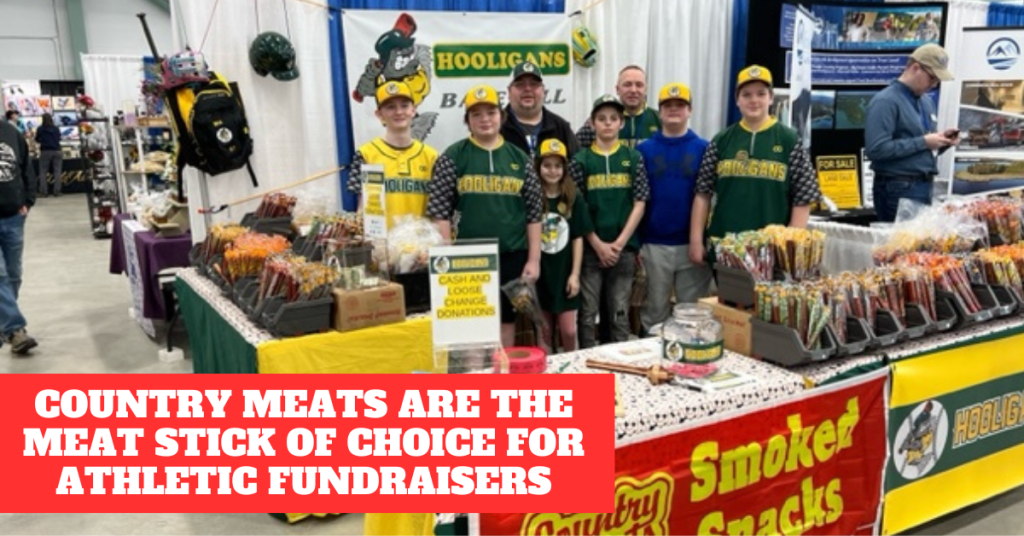 Country Meats snack sticks are the meat stick of choice for athletic fundraisers.
Since most athletic programs include a focus on nutrition and diet, selling a low-sugar, protein-based product sends the right message. Fortunately, Country Meats offers low-carb, protein-packed meat sticks in delicious flavors that appeal to every taste. With low or no sugar, our smoked meat snack sticks make a perfect choice for athletic fundraisers for everyone from competition dance studios to pee wee leagues to high school teams. If your group needs to raise money for states, nationals, uniforms, entry fees, trips, or equipment, a Country Meats fundraiser helps you meet your financial goals.
Because they're a healthier alternative, our smoked meat sticks are the best choice in food fundraisers for athletes. The portability of Country Meats sticks also means that it's easy to set up a sales table at games where you'll attract plenty of customers. You can keep your fundraising going all season long while also providing children and adults a low-sugar snack with 9 grams of protein.
Country Meats snack sticks are proven to work as an easy athletic fundraising idea.
Generations of athletes and their boosters have sold Country Meat sticks to raise funds for team sports because we supply a high-quality, shelf-stable food product that people (especially those in school-aged demographics) love to eat. Testimonials from sports team fundraisers demonstrate how easy it is to sell them in person and online. Adding online sales to your in-person campaign gives you a longer reach, and we give you helpful tips to make your sports team online fundraising a success. With Country Meats snack sticks, you have the winning combination of a healthier choice that sells well and can be easily transported to different locations. It's a simple, easy fundraising idea for sports teams that aligns beautifully with the athletic lifestyle.
Raise money in good conscience with a Country Meats fundraiser. If you're new to Country Meats, order a sample pack to discover the delicious variety of our smoked meat sticks. You'll understand immediately why we have so many repeat customers, and why you'll have so many repeat buyers, too! Learn more on our website, or give us a call at 1 (800) 277-8989. If you have questions, send an email to customerservice@countrymeats.com. We're happy to help you set up your account and start fundraising for your athletic team or program today.